Cambodia travel guide 2020
The Kingdom of Cambodia
Cambodia or Kampuchea is small gorgeous home to be explored in Southeast Asia, geographically situates in the tropical monsoon, between Vietnam and Thailand while the northern east shares border with Laos. Cambodia dramatically suffered from the tragic genocide between 1975-1979 which widely shocked the world and sadly processed more than 2 millions of lives in the country.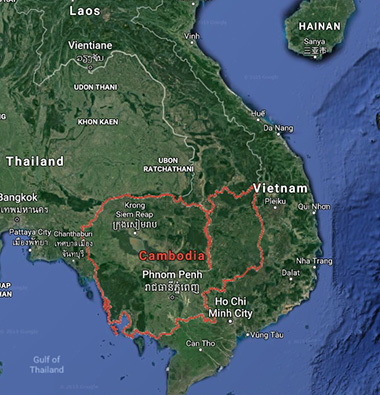 Cambodia is one of the best destinations in Asia, the fascinating Siem Reap is famed for its marvelous Angkor Wat, the unrivaled masterpieces & the finest architectures that makes Siem Rea become a pearl city of wonder. Distinctively, from Angkor archaeology to the modern capital city of Phnom Penh where precious Royal Palace stands, Cambodia's southern coasts & natural islands offer the perfect relaxation of beach break, unlikely northern hidden Cambodia's specialty.
When people talk about the fame of Angkor Wat temple, it reminds about the rich civilization of The Khmer Empire dated to 802 CE until the fall of Angkor in 15th century. Nowadays, the entire area comprises 181035 square kilometer with the southern coastline of 443 square kilometer. The country's population is 15 million estimated in year 2017, with density of 82 people per square kilometer, basic income 3-5 US dollar per day, and 85% of the population relies on agriculture, farming and fishery.
Cambodia's longest river is Mekong – the trans-river from Tibetan Plateau running via a few Southeast Asia countries before reaches Cambodia and extend into south-seat Vietnam. With the central flood plain, Cambodia features The Great Lake or Tonle Sap – the largest freshwater lake in Southeast Asia and well-known as the biosphere reserve area listed by UNESCO in 1997, and surrounded by 5 provinces Kampong Cham, Pursat, Battambang, Siem Reap & Kampong Thom.
The main economy site is based in Phnom Penh Capital where the garment factories, foreign property investment and tourism industry have rapidly grown but the overall economic growth is still low if compare to the last decade. The major shipment ports in both Phnom Penh Capital and Sihanoukville are the key vessel to boost country's commercial challenges for open market.
Phnom Penh Capital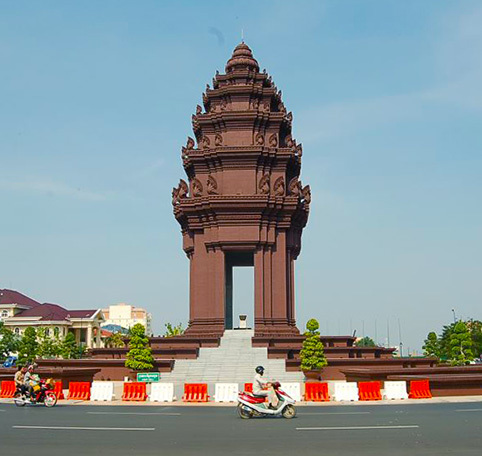 The capital is populated over one million and half, the bustling capital as well as the commercial hub of Cambodia. Situates at the conjunction of the Mekong, Tonle Sap River and Tonle Bassac, Phnom Penh features the significant cultural and historical Royal Palace, Silver Pagoda, National Museum and religious Wat Phnom that was built atop the hill in the heart of the capital. In the deep sadness, the killing field of Cheung Ek and the transformed Tuol Sleng museum (S21 Prison) attract hundreds of tourists to witness its tragic sites before continuing to stroll around Tuol Tompoung (Russian market) for happy shopping and have some highlights of the daily capital activities with stopping at independent monument, yellow post office, local markets, active pagodas or at an art museum.
The fresh riverside gives a pleasant walk overlooking Tonle Sap & Mekong as if taking picturesque photos of Royal Palace which should not be missed out. Along the riverfront, there are busy café, interesting boutique shops, restaurants, urban hotels and colonial buildings while at the other sides fulfill of colorful restaurants & bars which make the nightlife more cheerful.
Siem Reap, Angkor Wat
Siem Reap is the significant tourist destination in Cambodia, 320km from Phnom Penh Capital with short flight 45 minutes, 6-7 hours by speed boat in high-water season (mid of September to December) and 6 hours by overland, it's where hundreds of impressive ancient Angkor temples were constructed by Khmer Empire, especial the renowned Angkor Wat temple built in 12th century, the largest monument in the world as well as the world's heritage listed by UNESCO and is the only incredibly unrivaled architectures among the world of wonders.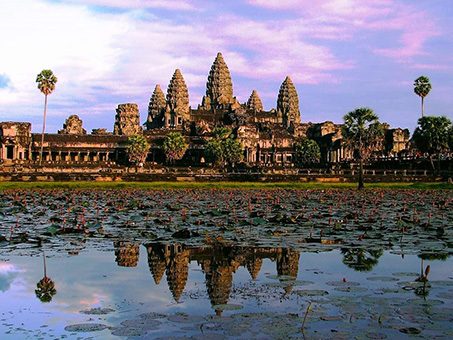 From the tomb raider temple "Ta Prohm" to the intricately carved Banteay Srei "The Pink Sandstone Temple", the national park of Phnom Kulen waterfall and Tonle Sap floating villages are extremely attractive which truly inspire your journey more exceptional, relaxing, and discoverable.
When the twilight starts to end, the busy colorful Siem Reap pub street begins to fill out hundred tourists, alleys clustering boutique shops and night markets offer variety of local handicrafts, paintings, clothes, silk, statues and so on while the old market, and the riverside of old market's carts cater different tasty street food and $1.00 cocktail bar-carts.
The far off countryside gives a pleasant sightseeing overlooking beautiful rice paddies dotting with palm trees, vegetable gardens, come across interesting rural activities, cattle, water buffaloes while being welcomed by lovely kids with word "HELLO". Additionally, biking is the perfect way to see charming Siem Reap countryside.
Battambang
Bordering Siem Reap with 2.30 hour drive, the largest rice-bowl Battambang truly emerges picturesque countryside while the colonial town remains French architecture, old yellow buildings and some of Angkorian temples are still in good condition including Banan and Ek Phnom temples. Featured by the significant Sangker River, the walkable riverside gives short highlights of evening activities and street food you may love to try.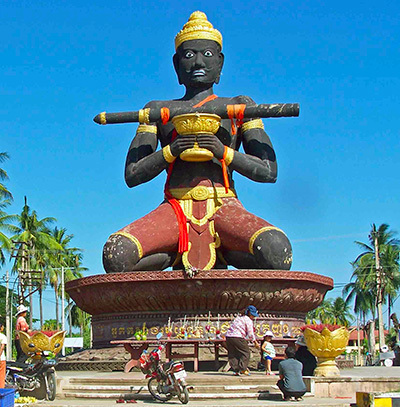 The most interesting thing to do in Battambang is BAMBOO TRAIN – the unique creative bamboo platform attached motor-engine which runs over the train rails, provides beautiful landscape, fresh air and you absolutely have fun. Whilst, experience a short stay in a tranquil Battambang resort, there are still much more to be explored including the infamous Prahok market, observing rice wine & rice paper making, challenge the real taste of Cambodian bamboo sticky rice, visiting a host family with tropical fruit testing, grape plantation and the oldest wooden house dates back to the colonial era.
From an active walk to an appropriate spot to see thousands of bats flying to their caves in the evening, the mysterious Phnom Sampov is an ideal destination to view the spectacular sunset, taking amazing photos and grabbing the breathtaking before you make your journey the most memorable.
In addition, Prek Toal bird core reserve is the most important bird home within Tonle Sap Biosphere Reserve, a great lush area housing many endangered water birds including darters, little cormorants, grey herons, greater adjutants, milky & painted storks, black headed ibis, spot billed ducks and other species that yearly migrate from different sites to Prek Toal sanctuary for breeding during and the end of the wet season which gives the best time to watch, learn and observe how those are concentratively being conserved.
The Southern Coast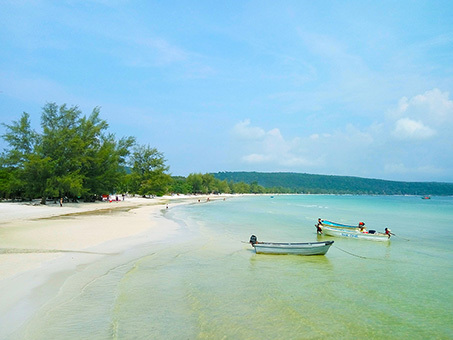 Cambodia's southern part consists of 443 square kilometer of the coastline with 4 provinces: Sihanoukville, Kampot, Kep and Koh Kong – standing along the blue crystal sea overlooking forestall islands while the undersea provides plenty of opportunities for diving and snorkeling to see the Cambodian underwater flora and fauna. The tasty fresh seafood and the instant fishing Kep crabs are a must-try followed by green Kampot peppers, dipping into local spicy sauces that makes your dishes more delicious.
Accommodating at beautiful resorts or standard hotels at the mainland is a basic relaxing experience while the Koh Andet Island in Koh Kong, Koh Rong Samloem Island, Koh Rong Island, Koh Russey, Koh Sramauch provide ideals for a better experience or even make an exclusive beach holiday at the private island "Koh Song Saa" to capture the true sense of tranquility, nature, sunbathing, swimming and relaxing.
The town orientation, a day trip of city highlights, island boat discovery and a sunset boat cruise are optional touring activities which also give beyond to see the local culture, encounters and photography opportunity rather than just relaxing at the seaside.
Northern Cambodia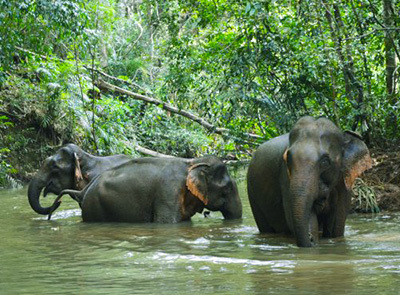 The mother of nature in Cambodia, clusters from Stung Treng where the Mekong River, rapids, birds and mangroves meet when Ratanakiri, Mondulkiri to Kratie create an amazing journey to discover the rest of hidden specialty of Cambodia. From the natural volcanic lake "Yeak Laom", the sleepy town to The Sen San River, the ethnic minority groups of Ratanakiri provides a great opportunity to witness ethnic activities, routine, ancestral believes, customs and culture in their notable villages while Kratie province gives unique chances to see the glimpses of Irrawaddy – the rare threaten freshwater dolphins in the world and Koh Trong Island of Kratie is still popular for authentic experience either by local bikes or horse cart ride with a stop for tasting pomelos and its neighboring Mondulkiri inspires overnights for the next day of playing with, feeding and bathing elephant families in pleasant river within Cambodia jungle and actually don't forget to go to bath under the most beautiful waterfall "Bou Sra" and take photos of the stunning views of Mondulkiri before leaving for the next destination.
Top 10 Things to Do in Cambodia
Angkor Wat – Stroll along the world's largest temple
Ta Prohm – Traverse the temple of 'Tomb Raider'
Apsara Dance – Witness the Khmer performance
Biking – Wander across Siem Reap on a bike
Cruising – Spot the Irrawaddy river dolphins and enjoy the sunset
Cuisine – Indulge on fresh seafood and Amok
Beaching – Chill out and relax at the laid-back beaches
National Parks – Engage with the wild
Kampot River Excursion – Go for a swim or hop on a kayak
Shopping – Grab unique souvenirs from the local markets
When is the Best Time to Visit Cambodia?
If you are planning to visit Cambodia, it is nice to know that there is no wrong time to travel. The weather is warm all year, but there is a monsoon season that creates two climate conditions, rainy and dry. The best time of the year to visit Cambodia will depend on what you want to do during your stay and if you want to avoid the rainy season.
Between November and April, Cambodia sees very little rain so it is perfect if you wish to enjoy a relaxing trip to the southern coast. Outside this period, humidity rises and the rains come. However, you must not be discouraged from traveling because the temples are tranquil, the rivers are free-flowing, and the countryside is lush and green. This is the ideal time to visit the outer-lying temples because they are no longer crowded.
When summer ends, The Tonle Sap comes to life. This is one of Cambodia's true natural wonders and the biggest freshwater lake in Southeast Asia.
November is popular with tourists because the average temperature is around 25°C. It's the perfect time to visit if you intend to wander around the temples, monuments, and markets. December and January are also busy months because they are dry and ideal for visiting the southern islands. Temperatures start to rise in March and April and they can be very humid for sightseeing. However, the festivities for the Khmer New Year take place in April. It is one of the most important festivals in Cambodia that coincides with the end of the harvest season.
Getting Into and Around Cambodia
Getting to and around Cambodia is all part of an awesome adventure. Note that there is no direct flight from Europe, Australasia, North America, and South Africa, so you'll need a connecting flight from elsewhere in Southeast or East Asia. You'll arrive either at Phnom Penh (PHN) or Siem Reap (REP) International Airports.
You can also enter Cambodia from neighboring nations through its land borders with Thailand, Laos and Vietnam. For instance, you can cross into Cambodia via the Vinh Xuong/Kaam Samnor border crossing located northwest of Chau Doc in An Giang Province, Vietnam. There are several companies in Chau Doc selling boat trips and cruise packages from Chau Doc to Phnom Penh via the Vinh Xuong border. Alternatively, you may get into Cambodia via speedboat from Song Tien Port.
The best ways to explore Cambodia are by plane and private car. Booking a flight between cities is a cost-effective and popular option among travelers, while hiring private cars offer the most convenient and comfortable means of transportation. Other options like buses, taxis, motorbikes, and bicycles are available, but they are often inconvenient and time-consuming.
What to Eat in Cambodia
The food may not be as popular as those in neighboring Thailand or Vietnam, but it is a unique cuisine packed with vibrant flavors and is definitely a must-try when you're in the country. Cambodia is a superb destination for food lovers who wish to enjoy a culinary adventure. Let's take a quick look at the country's must-try dishes that will surely get your taste buds tingling!
See more: CAMBODIA TOUR PACKAGES-HOLIDAY DEALS 2020